This is the GreenFacts ToolBox window:
It will host all sorts of helpful tools, such as:
links, figures, glossary definitions and footnotes...
To enjoy optimal navigation,
please do not close this ToolBox window.
If you are using
on the left of the main window, on the left of the main window, you might find that closing it will help your navigation of the GreenFacts website,
you can do this by
If you are NOT using and
the text in your main window does NOT appear in full,
kindly send an email to , explaining us the details.
Navigating in the GreenFacts Digests...
GreenFacts Digests are presented as Q&As
in GreenFacts' copyrighted Three-Level Structure
of increasing detail and complexity: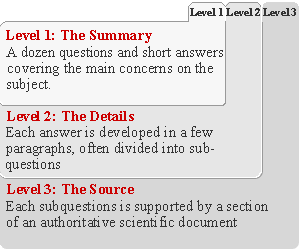 Click on the More... buttons to develop the answers, or navigate through the levels by clicking on the folder tabs.
Links colors and icons nomenclature :
Green link - Link opens in the Toolbox
Green link - Term explained in the glossary (in the Toolbox)
The following icons open in another browser window:


Acrobat Document - Download free plugins


Word Document - Get Microsoft Office here


Other External links

GreenFacts' Three-Level Structure is copyrighted
© GreenFacts ASBL/VZW 2001–2005. More...